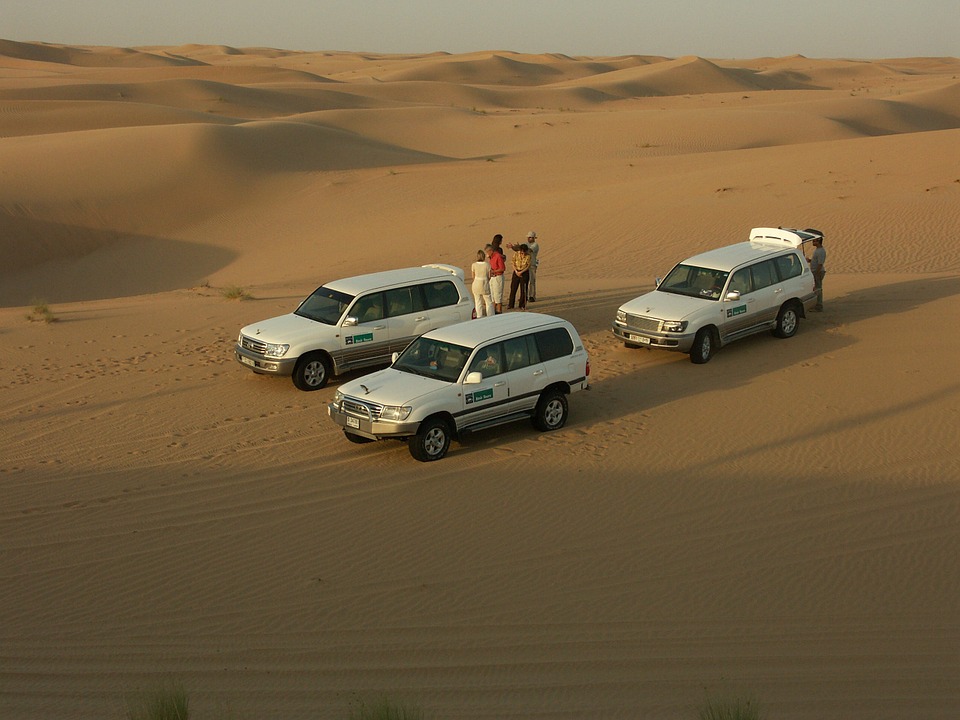 This is the perfect time of year when everyone is looking for an opportunity to travel their dream destinations. Where else would you want to visit when you have an amazing option to visit Dubai? Yes! Why not plan your upcoming vacation trip to Dubai? It is indeed a traveller's dream and every fun-loving, adventure enthusiast's favourite destination. Dubai is one of those very few cities which have both Beaches & Desert at their doorsteps. The lavish Dubai Desert and the azure Coastline are just an hour away from each other. This gives you an opportunity to enjoy both the desert and the sea in your short vacation trip.
Here are some ways how you can experience the enthralling Emirate's landscape:
Plunge Into The Astounding Desert Safari Tour:
Amongst the most popular tourist excursions in UAE, Desert Safari Dubai holds the top position. You sure are not a faint hearted one, if you're looking forward to this adventure trip. When you go for a safari tour, hold your breath and be ready to get whipped and tossed in the land cruiser at hands of your expert driver. Your heart will surely skip a beat pounding on these high-peaked sand dunes. This trip will not only offer you a thrilling ride on the desert sand, but also a chance to witness an astonishing sunset in the desert. You can add on to feed your adventure lust with Quad Biking and sand surfing. This trip has a perfect delightful ending with Bedouin style camping where your Arabic buffet dinner is accompanied by live performances of belly dancers. There are few top tour excursion companies in Dubai that offer these services, amongst which is: Oasis Palm Tourism
Not Much A Desert Fan? Not a Problem! Go For Water Adventures:
Dhow Cruise Trip: A dhow cruise is a traditional vessel mostly a wooden one. It was in olden times used for trading and transporting purposes in the Middle Eastern Countries. Now a days these are transformed into attractive Cruises and are extensively used in tourism industry. You can go for a Romantic Dinner night on a Dhow Cruise Dubai. The Dubai Marina & Creek are two locations where you can easily get a Dhow cruise dinner facility. Al Wasl Dhowhas the biggest Dhow in Dubai Marina. These cruises are modified into Floating Restaurants offering an amalgamation of Tradition and modernity.
Visit Musandam on a Dhow:For those who haven't heard about it, Musandam is the Mountainous Omani Peninsula bordering the UAE. This place is owning the natural wonders of Fjords and is home to some of the most exquisite marine life including the dolphins. You can hop-on for a Musandam Tour on a traditional Wooden Dhow, which is fully equipped with all amenities to make your trip fun-packed & comfortable. Day Out Dubai offers amazing deals and packages for Musandam Tours. As the dhow glides through the green calm waters, all you got to do is relax and indulge in the serenity offered by the environment.
Rent A Luxurious Yacht: Everyone amongst us has at least once, imagined themselves on a luxurious Yacht, cruising through the ocean and spending a time off the chaotic lives. Dubai offers you one lucky chance to indulge into your luxury keeping aside all the inhibitions. You can go for Yacht Rental Dubai, for all your needs, there is a Yacht to cater. There is an entire fleet at the Dubai Marina Yacht club owned by Al Wasl Yachts, where you can go on making your selection of Yacht based on your need & the size of your group. These rented yachts come equipped with all the required instruments & safety gears. The crew and staff are trained professionals who help making your trip smooth and carefree. You can even book a Yacht for Fishingfrom in Dubai. The fishing yachts in Dubai come with the most high-end SONAR equipment required for tracing the prey and making your chances to get a good catch pretty high. You can also get to learn a skill or two from the accompanying professionals.
With all these information, I am sure you are already imagining your upcoming tour to Dubai. So waste no more time and start gearing up for your next bucket list location to conquer. Hopefully, these points will prove helpful when you plan out your tour excursions in Dubai.