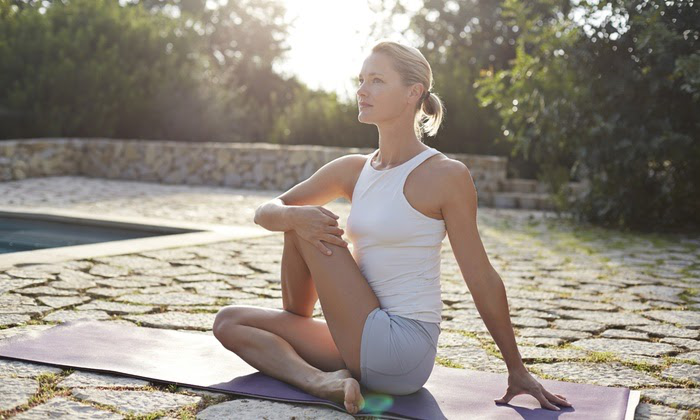 Studying yoga is a life-long process. However, many studios and personal trainers make it more complicated than it needs to be. You don't have to wait for the perfect class or the perfect time to go. You don't even need to commit yourself to a particular studio or yoga style. Instead, you can create a personalized yoga study program by using online yoga platforms like Glo.
Glo has thousands of different yoga, meditation, and Pilates classes that are available whenever you need them. They have an app so you can access your classes on any device, at any time, even if it's in the middle of the night. The $15 membership provides access to all of their classes and teachers. They have some of the best teachers available like Elena Brower and Amy Ippoliti.
Glo was created for beginners and seasoned yoga practitioners alike to deepen their practices. Whether you need beginner classes that teach you about the poses or advanced teacher training classes, Glo has everything you need to increase your flexibility and strengthen those muscles.
What are some of the classes Glo has available for their online yoga?
Self-Myofascial Release: Replenish and Recover
Tiffany Cruikshank teaches this yoga conditioning class that is perfect for all levels, including beginners. It is designed to teach you the at-home techniques to stretch out the tight places within the body. It is also perfect for the gym rats who need to reduce their soreness and muscle fatigue after a hard workout.
The course has three classes over a week to apply pressure to the different connective tissue and muscles within the body, encouraging them to relax and restore their natural mobility. When you practice this course regularly, you can support your overall fitness and ease of movement.
Who is Tiffany Cruikshank?
Tiffany has been practicing yoga around the world as a health and wellness expert. She has worked with top celebrities and athletes from all corners of the world. She even founded Yoga Medicine, a collective of yoga teachers who fuse the traditional aspects of yoga with the practicality of western medicine. She has a background in Sports Medicine and Acupuncture, making her classes driven by healing the body. She encourages her students to focus on the anatomy and practice of yoga while teaching in an easily accessible way.
She has also contributed to magazines and papers like the Wall Street Journal, the LA Times, Shape, Women's Health, Yoga Journal, and Forbes.
Loosen Up the Legs
This yoga conditioning class is designed to rejuvenate the legs. By using foam rollers and therapy balls (or tennis balls) you will release tension in the hamstrings, feet, and quads. Tiffany encourages your breath to remain deep and strong, while you work to take the edge off of your sore muscles. Throughout the class, you will be working to create mobile myofascial tissues and ligaments. You will need two tennis balls or therapy balls and a foam roller.
Destress the Shoulders and Neck
Throughout the next sequence in Tiffany's online yoga conditioning course, you will focus on the tight areas of the neck, shoulders, lats, and pecs. Most people carry a lot of tension in their upper bodies, particularly in the neck and shoulders because they are sitting at a desk in front of a computer all day. Throughout this thirty-minute class, you will use the tennis balls and foam roller to relax the tension knots in the neck and shoulders. As you roll away the discomfort, you will find your stress melting away as well.
Unravel the Hips and Back
The final class of online yoga will be focused on using the foam roller and therapy balls to relax your hips and back that have become painful from sitting in front of the desk for so many hours each week. By focusing on the pressure points of the back, glutes, and erectors, you will help your body move more easily.